Marloo Creative Studio is a one-stop-shop for all of your marketing needs. Our branding, SEO, and web design services satisfy companies of all sizes all around the world. The main goal for our team members is always to provide top-notch customer service to keep them coming back! We are excited about Clutch's recognition of us as one of many Canadian logo experts!

Clutch is a ratings and reviews firm located in Washington, D.C. They connect businesses with the best service providers for the job at hand. Each profile on Clutch includes a basic description of the company, service lines offered, some past clients, and most importantly reviews from real clients. Take a look at one of the 5-star reviews on our Clutch profile with a construction company. The company's online traffic, leaders, and conversions have increased since partnering with us.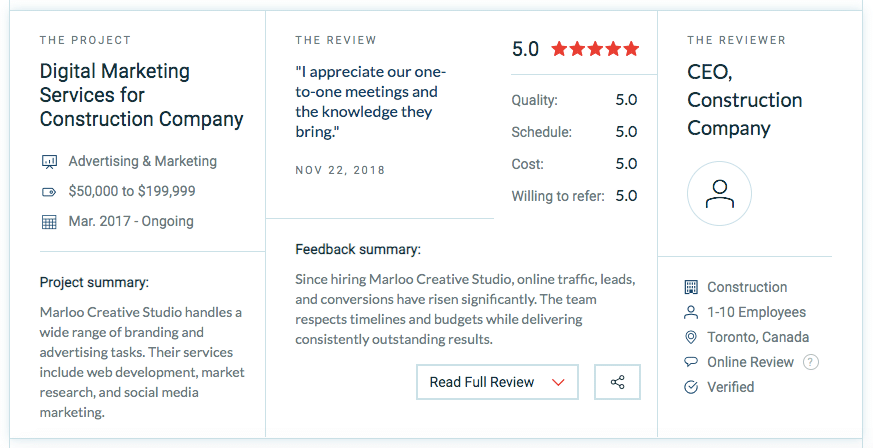 "I appreciate our one-to-one meetings and the knowledge they bring." – CEO of a Construction Company
Clutch is continuously growing and changing. Two changes they have made is creating The Manifest, a blog-style review site, and Visual Objects, a portfolio website. The Manifest is able to list our marketing talents in a shortlist of the top SEO companies in Toronto. Visual Objects' Canada agency list offers a view of the creative aspects of SEO service providers by providing pictures of past projects.
"We are delighted to be part of the growing economy in Canada and being able to commit to our client's full potential." – Ali Maserrat, CEO of Marloo Creative Studio
We are so excited for the future of our company and we hope you are looking to grow with us.